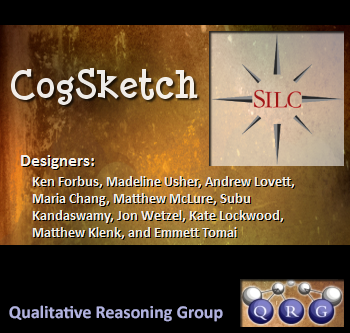 CogSketch
People sketch to work through ideas and to communicate, especially when dealing with spatial matters. Software that could participate in sketching could revolutionize spatial education and provide a new kind of instrument for cognitive science research, and also be be an important scientific advance in its own right. Our goal is to do the research and development needed to create a sketch understanding system that can be used as an instrument for cognitive science research and as a platform for educational software. This system, called CogSketch, will be one of the products of the Center. Our vision is that, in ten years or less, sketch-based educational software can be as widely available to students as graphing calculators are today. To achieve this vision will require tight collaboration between the AI researchers on the CogSketch development team and psychologists, learning scientists, and educators.
Main Project Page: http://www.silccenter.org/.../tool-sketching
---
Read This First:
System Requirements:
Hardware: Tablet PC preferred, but not required. If you are using a desktop or a traditional notebook, we highly recommend adding an inexpensive Wacom tablet, because you will find it a lot easier to draw with a pen than with a mouse.
Operating system: Microsoft Windows Vista / Windows 7 / Windows 8 / Windows 10.
CPU: At least 1.5 Ghz, 2 Ghz or better preferred.
RAM: 1 GB minimum, 2 GB or more preferred.
Disk Space: At least 1.5 GB free disk space is required.
Want to help scientists help you?
Researchers at the Spatial Intelligence and Learning Center (SILC) are gathering a corpus of sketches using CogSketch. CogSketch is the sketch understanding software that we are creating, which is available for free from our web site. It has two purposes. First, we are using it to explore how people reason and learn. Second, we are exploring how to incorporate sketching into education, to improve student learning. By gathering people's sketches, scientists will be able to do analyses that will help them with both of these missions. If you want to participate, all you have to do is download CogSketch, and indicate your acceptance when you install the software. (If you change your mind, there is a "Phone Home" setting in the software preferences.)
CogSketch, version 3.10
The above link will take you to the form required to download the installers for the latest version of CogSketch



Individual Downloads

The User Manual is included in the installer above — this link is just for those who would like to look at the manual without installing CogSketch.


This document is included in the installer above — the link is just for those who would like to look at the manual without installing CogSketch.


The knowledge-base is also included in the installer above so you do not need to download this separately. This is for those who want to restore their knowledge-base to its original state. Download this file, unzip it, and choose "Restore Knowledge-Base" from CogSketch' FIRE menu.


Revision History
New in v 3.10
(released 6/30/2016)
Bug Fix: You can once again ask for tutor feedback more than once for worksheets whose analogies involve remapping via quantitative constraints.
Bug Fix: Worksheets involving edge cycles work again.
New in v 3.09
(released 3/14/2016)
A backup copy of the Gradebook's database is now created whenever you close it. This allows for the database to be automatically upgraded to new versions and allows CogSketch to fix the database if it ever becomes corrupt.
You can now right click on an assignment in the Gradebook and upload all the assignment's sketches to the Sketch Repository rather than having to select them individually.
More information is now included with worksheets uploaded to the Sketch Repository. It's still fully anonymized, but this will help us figure out which worksheets belong together as part of the same assignment and will identify which sketch was used as the solution sketch for the assignment.
New in v 3.08
(released 2/11/2016)
You can now import SVG (Scalable Vector Graphics) files.
The "Overall" rubric in the worksheet tutor feedback used to contain all the tutor advice. This has now been replaced with the "Other Suggestions" rubric which only contains suggestions not already part of any other rubric.
Expanded the kinds of facts you can have computed by the "Get More Facts" button when authoring worksheets.
You can now change the wording of the advice generated for student glyphs missing in worksheets.
You can now disable the Required Glyphs advice for worksheets.
Improved calculation of partition constraints for analogies performed while generating tutor advice.
Improved analogy case construction for tutor advice.
Generation of positional relations for sketches now makes better use of the genre and pose assigned to the various layers.
Bug fix for generating tutor advice involving symmetric relations.
Improved handling of Collections and Relations defined by worksheet authors.
---