Articulate Virtual Laboratories
An articulate virtual laboratory is a software system for teaching science and engineering by providing scaffolding and coaching students in conceptual design tasks. An articulate virtual laboratory provides scaffolding for students in several ways:
It automates routine calculations that otherwise would overwhelm students or limit their explorations to very simple examples. This makes it easier for students to perform sensitivity analyses and dynamical simulations, in order to build intuitions about the phenomena and principles involved.
It provides visualization tools that help link quantitative results to conceptual knowledge. In addition to simply plotting data and simulation results, they provide conceptual explanations of these results to help train the student in interpreting quantitative results.
It coaches students by helping them learn to analyze, test, and improve their designs. It helps them figure out what modeling assumptions are appropriate, what numerical values make sense, and suggests improvements for how designs should be improved, based on highly motivating real-world examples.
An articulate virtual laboratory includes the following software components (see box):
A conceptual CAD tool that students use to generate and analyze their design.
A design compiler that "manufactures" a simulated prototype of the student's design.
A suite of test environments that can be used with the prototype as part of the process of evaluating the design.
A set of visualization tools to help the student understand complex and dynamic relationships.
An analysis coach that helps students evaluate their designs.
A design coach that makes suggestions for how a student's design might be improved.
The architecture of Articulate Virtual Laboratories: Boxes indicate software components of the architecture, ovals indicate the major problem-specific data structures generated during the course of a student's design activity. Solid arrows indicate the path taken by a student's design as it is evolved. Dashed arrows indicate the major information flows between the components.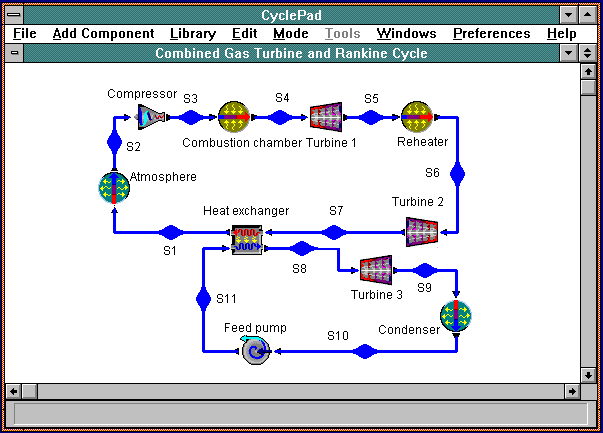 A design being created in our engineering thermodynamics AVL
We are currently building AVLs for two domains: engineering thermodynamics and feedback control. The prototype engineering thermodynamics lab is undergoing formative evaluations at Northwestern, Oxford, and the US Naval Academy. The feedback AVL will be tested with college students and also with advanced high-school students.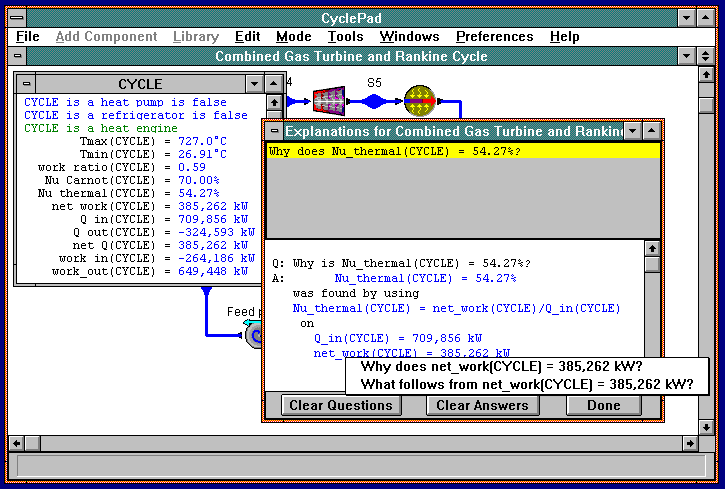 Students can explore the consequences of their assumptions with a dynamically generated hypertext explanation system
Selected Relevant Papers
Forbus, K. and Whalley, P. (1994). Using qualitative physics to build articulate software for thermodynamics education. Proceedings of AAAI-94, Seattle.

Panitz, B. (1996). An Articulate Virtual Lab. ASEE Prism, September, 1996, page 22.
Relevant Projects
Articulate Virtual Laboratories for Science and Engineering Education
---
Back to Ideas page | Back to Software page | Back to QRG Home Page